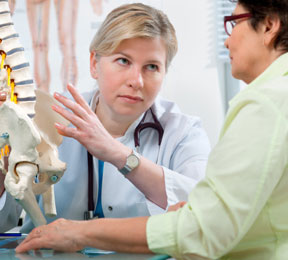 Your best advocate in the fight against chronic pain? Your doctor, especially if he or she works closely with you to monitor your pain and adjust your pain management plan until it works. If not, consider finding another doctor or pain specialist who will partner with you more effectively. Once you do, use these strategies to get the most from your patient-doctor relationship:
Track your pain. Keep a pain diary to record daily fluctuations in your pain, as well as the habits and activities that could be causing them, and share it with your doctor. Use a numbered scale to more precisely measure how much pain impacts your mood, relationships, sleep, and physical functioning.
Prepare for your appointment. Whether it's your first exam or a follow-up, bring a list of specific pain symptoms along with questions to ask your doc.
Know when to go to the doctor. Make a doctor's appointment right away if your chronic pain simply won't improve, worsens, or is messing with your sleep, emotional well-being, or ability to function at work and home. Also, alert your doc to any new pain symptoms.
Bottom line: Don't go it alone. Ask your doc to make adjustments to your chronic pain treatment until it brings you the relief you need.