Years of clinical research and treating patients have shown that the key to preventing pain is a four-pronged approach that involves the following steps:
Step l. Lose weight
Step 2. Exercise daily
Step 3. Control your stress
Step 4. Get quality sleep
Patients who follow this 4-step program are the ones who need less medication, are able to be as active as they want, and experience fewer problems with sleep, anxiety, or fatigue when compared with other overweight or obese patients with pain. To the contrary, pain patients who are overweight and eat an animal-based diet with few anti-inflammatory foods, who keep erratic hours at night with little sleep and maintain a sedentary, high-stressed lifestyle, are the ones who call the doctor frequently, complaining of poor pain control and feelings of achiness, fatigue, insomnia, and depression.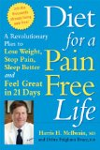 Continue Learning about Chronic Pain Prevention