Chronic fatigue syndrome may occur in people with fibromyalgia. A survey published in the Archives of Internal Medicine found that four in five people seeing a doctor for a diagnosis of CFS could additionally be diagnosed with fibromyalgia. One in five also had CFS. So, even if your main difficulty is fatigue, you might also have fibromyalgia.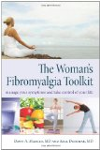 Despite a lack of consensus, chronic fatigue syndrome (CFS) and fibromyalgia do share many of the same symptoms, including overwhelming fatigue, sleep disturbances, mood disorders and headaches. But some experts believe they are separate conditions and that the one symptom that may distinguish fibromyalgia from CFS is pain. Even more confusing, some findings suggest that people with fibromyalgia also develop CFS. Fortunately, many of the treatments for fibromyalgia fatigue also help reduce fatigue from CFS.
In real life, most people who have fibromyalgia also have chronic fatigue syndrome (and vice versa). Unfortunately, the research and clinical definitions used for these conditions sometimes create more confusion than help. Basically, if you have persistent severe exhaustion that does not go way with vacation combined with severe insomnia and brain fog, you likely have chronic fatigue syndrome (or a related process) whether or not it fits the exact diagnostic criteria. If you also have widespread pain, you likely have fibromyalgia as well.
Continue Learning about Chronic Fatigue Syndrome