The duration and severity of symptoms associated with chronic fatigue syndrome differ with each individual, so it is often difficult to know what someone needs. In fact, symptoms often lessen or dissipate on their own. But if someone you know may have chronic fatigue syndrome, it is important that you help them pace themselves and maintain a healthy lifestyle. You can help someone you know by offering motivation to exercise moderately, eat nutritiously, and avoid harmful substances. A little emotional support can go a long way in caring for someone with chronic fatigue syndrome, as sufferers often feel guilt, isolation, anger, and anxiousness. You can help by offering to discuss problems or share ideas with them, as well as referring them to a therapist if necessary.
Continue Learning about Chronic Fatigue Syndrome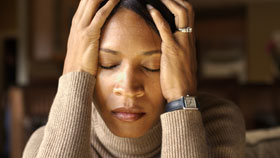 Chronic fatigue syndrome is difficult to diagnose and its cause is unknown. There are ways to manage this disorder with treatment and lifestyle changes. Learn more form our experts on chronic fatigue syndrome.