The classic midwifery model is based on the assumption that most pregnancies, labors, and births are normal biological processes that result in healthy outcomes for both mothers and babies. It focuses on maximizing the health and wellness of a woman and her baby, identifying and managing medical problems early on, and attending to the emotional, social, and spiritual aspects of pregnancy and birth. Midwifery care seeks to protect, support, and avoid interfering with the unique rhythm, character, and timing of each woman's labor.
Midwives are trained to be vigilant in identifying women with serious complications. Medical expertise and interventions are sought when necessary, but are not used routinely. In most parts of the world, midwives are the primary caregivers for women with uncomplicated pregnancies.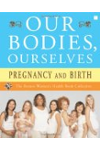 More About this Book
Our Bodies, Ourselves: Pregnancy and Birth
ALL THE INFORMATION YOU NEED TO MAKE WISE DECISIONS ABOUT YOUR PREGNANCY AND THE BIRTH OF YOUR CHILD -- FROM THE EDITORS OF THE CLASSIC "BIBLE OF WOMEN'S HEALTH" Pregnancy and birth are as ordinary...
The midwifery model of care is a holistic one that puts the woman in the center of all decision making. Midwives affirm the power and strength of women and the importance of accessible, ethical, quality healthcare that promotes health and healing. We honor the normalcy of women's lifecycle events and believe in the following:
Watchful waiting and non-intervention in normal processes
Appropriate use of interventions and technology for current or potential health problems
Consultation, collaboration and referral with other members of the healthcare team, as needed, to provide optimal healthcare
Continue Learning about Choosing A Practitioner & Pregnancy