Obstetrician-gynecologists (OBGYNs) are physicians who have completed a four- year surgical residency program in obstetrics and gynecology after four years of medical school. They provide gynecological care, preventive, medical, and surgical care to women during pregnancy and childbirth, and care for women of all ages with reproductive tract problems. Because OBGYNs are trained to diagnose and manage complications of pregnancy and birth, they are especially appropriate providers for women or babies who have serious medical conditions.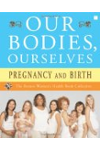 More About this Book
Our Bodies, Ourselves: Pregnancy and Birth
ALL THE INFORMATION YOU NEED TO MAKE WISE DECISIONS ABOUT YOUR PREGNANCY AND THE BIRTH OF YOUR CHILD -- FROM THE EDITORS OF THE CLASSIC "BIBLE OF WOMEN'S HEALTH" Pregnancy and birth are as ordinary...
An obstetrician-gynecologist (OBGYN) is a doctor who takes care of women's health from the time they start having cycles or periods all the way up until they die.
OBGYNs counsel women on their own general health with exercise and diet. Women also see an OBGYN for pap smears, breast exams and the national guidelines for these things, as well as premarital visits, family planning concerns and questions about medications they're taking. OBGYNs take care of women during pregnancy and delivery as well as after-baby care, including annual exams and menopausal therapy.
Younger girls who are just starting to get periods may go to an OBGYN because they don't necessarily feel comfortable going to the pediatrician. Women having troubles with cycles, where they may need treatment to stop unexpected bleeding may see an OBGYN.
Obstetrician-gynecologist also known as OBGYNs are physicians who have completed a four year post-graduate training in obstetrics and gynecology after completing four years of medical training. Most OBGYNs provide obstetrics as well as gynecological care to women. There are OBGYNs who now just concentrate on gynecological care.
Continue Learning about Choosing A Practitioner & Pregnancy