When women go through menopause, the estrogen levels begin to decline and eventually the ovaries stop producing estrogen all together. With this decline in estrogen, women can see a rise in cholesterol. It is important to understand this increased risk after menopause and work to reduce CAD risk factors.
The contents of this website are for informational purposes only and are not intended to be a substitute for professional medical advice, diagnosis, or treatment. Nor does the contents of this website constitute the establishment of a physician patient or therapeutic relationship. Always seek the advice of your physician or other qualified health provider with any questions you may have regarding a medical condition.
Total cholesterol levels tend to rise and levels of "good," or high-density lipoprotein (HDL), cholesterol tend to drop after menopause. For some women, hormone replacement therapy may increase triglycerides, a common problem in type 2 diabetes. High blood glucose levels can make this situation even worse. Keeping your blood glucose, blood pressure, and cholesterol levels on target can help.
During perimenopause, cholesterol levels begin to change with an increase in LDL (bad cholesterol). The levels of HDL (good cholesterol) remain constant, though this may be less protective than in earlier years.
Menopause causes a number of changes in the levels of cholesterol and other blood fats in our blood. The total cholesterol level generally rises by about 6 percent, low-density lipoprotein (LDL) cholesterol (so-called bad cholesterol) by 10 percent, and triglycerides, another type of blood fat, by 11 percent. HDL ("good" cholesterol) begins to fall two years before the last menstrual cycle and declines gradually after menopause. There is considerable controversy about the effect of these changes on heart disease.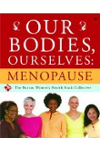 More About this Book
Our Bodies, Ourselves: Menopause
FROM THE EDITORS OF THE CLASSIC "BIBLE OF WOMEN'S HEALTH," A TRUSTWORTHY, UP-TO-DATE GUIDE TO HELP EVERY WOMAN NAVIGATE THE MENOPAUSE TRANSITION For decades, millions of women have relied on Our...
If you're going through menopause, you've probably noticed that your "bad" low-density lipoprotein (LDL) cholesterol is on the rise. You're not alone. On average, LDL cholesterol climbs about 9 percent as women start going through "the change."
Continue Learning about Cholesterol