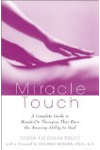 Tuina is a massage-like healing art dates back to the Shang Dynasty of China, 1700 BC. There is indication that tuina massage was used to treat diseases in children and digestive complaints in adults. Acupressure is the pressing of acupoints, but Tuina (pronounced "twee-nah") uses different strokes that are applied to specific points, muscle groups, and meridians. Tuina goes beyond the physical touch effect to rely on the physical expression of Qi or energy flow from the giver to the receiver for ultimate healing.

To stimulate health, a Tuina practitioner uses:

• Hand techniques to massage the soft tissue of the body
• Acupressure to touch specific points that affect the flow of Qi
• Manipulation techniques to realign the musculoskeletal system.