Many commercial toothpastes can present a danger to young children and contain an FDA-mandated poison warning because swallowing fluoridated toothpaste can have adverse effects including fluoride poisoning. It is generally recommended to avoid the use of commercial toothpaste under three years of age.
Hold off on using toothpaste until your child is old enough to spit it out -- usually around age 3. Choose one with fluoride and use only a pea-sized dab, or less, for younger children. Don't let your child swallow the toothpaste or eat it out of the tube: an overdose of fluoride can be harmful for children.
From
Good Kids, Bad Habits: The RealAge Guide to Raising Healthy Children
by Jennifer Trachtenberg.
Take the RealAge Test!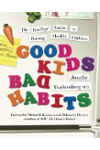 Children should begin using fluoridated toothpaste when your child can spit out the toothpaste -- around age two. You can help them brush their teeth by brushing along with them and modeling the proper ways to brush. Prior to this age, you can wipe the mouth and teeth with a cloth.
Continue Learning about Children's Oral Health