I would say sometime between 5-6 is fine. At the very least, introduce your children to dental floss then. They may have trouble with it at first (it's not as easy as brushing), so I would encourage that they start with the front teeth (which are far easier to floss), and go from there as they get more comfortable with it.
If your child's teeth are close together, then you should start trying to floss their teeth as soon you can. If they have spaces, then those are should be easily cleaned with a toothbrush.
As you child gets older, and the responsibility for their mouth shifts to them, worry less about flossing and more about finding a tool they will use to clean between their teeth. Millions of adults struggle with dental floss—and for no reason. Flossing is not superior to other methods of interdental cleaning. By helping your child find a product they like and can easily use, you will help them have a lifetime of good oral health.
Many companies make child-friendly products that are designed for smaller hands and are easy to use including a Water Flosser for Kids.
When the baby teeth emerge and touch, usually around age 2, you should start flossing them regularly. A pediatric dentist can demonstrate how. Children usually can start flossing on their own around ages nine or ten, but some may have the ability (and willingness) to floss properly on their own before then. Tools like a prethreaded flosser may be useful for children learning how to floss.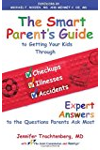 More About this Book
The Smart Parent's Guide: Getting Your Kids Through Checkups, Illnesses, and Accidents
What to Do When You Don't Know What to Do! "Moms and dads need expert guidelines, especially when it comes to their kids' health. This book reveals the inside strategies I use myself-I'm a parent, too!-to avoid critical, common blunders where it matters most: in the ER, pediatrics ward, all-night pharmacy, exam room, or any other medical hot spot for kids. These tips could save your child's life one day. Even tomorrow." -Dr. Jen Making health care decisions for your child can be overwhelming in this age of instant information. It's easy to feel like you know next to nothing or way too much. Either way, you may resort to guessing instead of making smart choices. That's why the nation's leading health care oversight group, The Joint Commission, joined forces with Dr. Jennifer Trachtenberg on this book: to help you make the right decisions, whether you're dealing with a checkup or a full-blown crisis. The Smart Parent's Guide will give you the information you need to manage the pediatric health care system. Dr. Jen understands the questions parents face—as a mom, she's faced them herself. She walks you through everything: from how to choose the best ER for kids (not adults) to when to give a kid medicine (or not to) to how pediatricians care for their own children (prepare to be surprised). Her goal is your goal: to protect the health of your children. There simply is nothing more important.
Begin using floss when your child's teeth begin to touch one another. Flossing helps prevent cavities between the teeth. The following are proper techniques in flossing your child's teeth:
Use about a foot and a half of floss. Wind most of it around the middle fingers of both hands. Hold the floss between the thumbs and forefingers. Use a gentle, back-and-forth motion to guide the floss between the teeth.
Curve the floss into a C-shape and guide it into the space between the gum and tooth until you feel resistance. Gently scrape the floss against the side of the tooth.
Repeat these steps on each tooth. Don't forget the backs of the last teeth in each corner of the mouth.
Because flossing is a difficult skill to master, you should floss your child's teeth until he or she can do it alone. Every child is different, however. Your dentist and hygienist can show you how to floss.
Start flossing your child's teeth when they begin to touch each other. The purpose of flossing is to remove particles of food that get stuck between the teeth. Make flossing part of the bedtime ritual and your child will be more likely to do it later.
Continue Learning about Children's Oral Health