The consequences of allowing this soft sticky, bacterial film to build up between the teeth are numerous. It can destroy the outer enamel of your child's teeth. Her gums may become irritated and bleed and her breath may start to smell. After a while, these soft, sticky plaques will harden into crusty yellow or brown deposits -- called tartar -- and make it even easier for more plaque to stick and accumulate on her teeth. Eventually, dental diseases that lead to tooth loss can take hold, resulting in a fading smile and, at worst, difficulty eating and speaking.
Once the harmful types of bacteria start to flourish, they invade gum tissue and release toxins causing gingivitis. In severe cases, your child could develop periodontitis, a disease in which the bacteria and their toxins attack the bone structure supporting the teeth, resulting in permanent damage.
Don't be fooled into thinking that proper dental care is merely cosmetic. Poor oral hygiene can have a much larger effect on overall health than just the look of teeth and gums. While lack of flossing can lead to gingivitis and periodontal diseases, the consequences of poor dental health may reach beyond your child's mouth and into her heart. Research has shown a distinct connection between periodontitis and cardiovascular disease in adults. Researchers also speculate that bacteria from the mouth may enter the bloodstream and contribute to inflammation and artery clogging. So, keeping your child's mouth healthy may keep her heart healthy, too.
From
Good Kids, Bad Habits: The RealAge Guide to Raising Healthy Children
by Jennifer Trachtenberg.
Take the RealAge Test!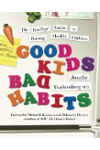 Cavities and gingivitis are the side effects of plaque on your child's teeth. Plaque are bacteria in your mouth. When they stick to your teeth, they can cause cavities. The plaque use the sugars that you eat to make acids. The acids eat into the teeth causing cavities. Plaque sticking on the teeth also causes gingivitis. Regular brushing and flossing, regular visits to the dentist, and a diet low in sugars will lessen the chances of developing cavities and gingivitis.
Continue Learning about Children's Oral Health