Your child's baby teeth are at risk for decay as soon as they first appear -- which is typically around age six months. Tooth decay in infants and toddlers is often referred to as Baby Bottle Tooth Decay or Early Childhood Caries (cavities). It most often occurs in the upper front teeth, but other teeth may also be affected. Once teeth first appear, you should schedule the first dentist visit.
Baby bottle tooth decay is decay in baby's teeth. It is a result of allowing a baby to take the bottle to bed at night or nursing just before bedtime. Plaque will produce acid from the milk in the bottle. If your baby does nurse before bedtime, gently wipe the teeth with a soft cloth before bedtime.
Baby bottle tooth decay is the biggest threat to dental health for infants and toddlers. The trouble is that just about everything they drink except water contains sugar. And when a child slowly sucks on a bottle or a sippy cup, the sugar lingers in her mouth where bacteria break it down and turn it into acid. Over time, this acid can start eating away at the enamel on your child's teeth, especially the top front teeth.
You can avoid this by limiting bottles to mealtimes, not putting your child to sleep with a bottle, and not letting her fall sleep with a bottle in her mouth. For older children, quenching late night thirst with water is preferable. Also, encourage your child to start drinking from a cup around her first birthday; when a child drinks from a cup, the sugar moves past the teeth very quickly and does little harm.
From
Good Kids, Bad Habits: The RealAge Guide to Raising Healthy Children
by Jennifer Trachtenberg.
Take the RealAge Test!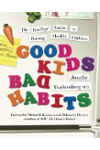 Continue Learning about Children's Oral Health
Teaching children good oral hygiene habits early can lead to a lifetime of good dental health. You can prevent children from getting cavities by taking care of their teeth as soon as they start to come in. Depending on their teeth...
, children may need help with flossing until they are a little bit older.
More