You should brush any teeth that your child has in their mouth. Infections in the baby teeth can extend to the permanent teeth.

For babies, you can use a soft bristle toothbrush or a finger brush twice daily. If you use a fluoride toothpaste, only use a small smear of paste. For non-fluoride paste, use a pea-sized amount.
Yes. It is important to brush your child's baby teeth. Baby teeth just like adult teeth are susceptible to cavities. Some baby teeth in the back of the mouth don't "fall out" until the age of 12 or older. A healthy mouth at a young age helps to provide a good foundation for the grown up teeth that come later. Good oral hygiene not only prevents cavities but also gum disease. If a child gets a cavity in a baby tooth and it is not addressed in a timely fashion it can lead to a toothache and possible infection. This can lead to difficulty sleeping, missed days from school and the need to seek emergency care.
If you're thinking brushing is not all that important until permanent teeth come in, think again. Baby teeth are more susceptible to tooth decay than adult teeth. And even though your child's first set of teeth will fall out, tooth decay can speed up this process and leave gaps before the permanent teeth are ready to come in. The remaining primary teeth may then crowd together in an attempt to fill in the gaps, which may cause the permanent teeth to come in crooked and out of place. Besides, if you don't get those good brushing habits in place early, it'll be more difficult to get your child to brush regularly when he's older.
From
Good Kids, Bad Habits: The RealAge Guide to Raising Healthy Children
by Jennifer Trachtenberg.
Take the RealAge Test!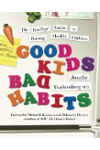 Baby teeth are as important as permanent teeth. As soon as teeth appear in the mouth, tooth decay can occur. Therefore, when your child's teeth begin to erupt, brush them gently with a child's size toothbrush and water. After the first tooth has erupted, schedule the first dental visit. After age two, beginning brushing the teeth with a pea-sized amount of fluoride toothpaste.
Yes, you should begin brushing your child's teeth as soon as the first tooth erupts. In infants and young children, you should refrain from using toothpaste until they can adequately spit and rinse. For an infant, wiping the tooth with a washcloth can also be effective.
Continue Learning about Children's Oral Health