There are several ways you can entice your child to want to brush his or her teeth. One way is to brush along with him or her so that this is a habit you practice together and he or she will model how you do it. Another is to use a fun or educational video, such as those available at 2min2x.org for children to brush along to. This will help ensure they brush the full two minutes, but they will have fun and time will pass quickly.
Instead of making brushing a part of his bedtime ritual, consider having him brush right after dinner, or before a favorite evening TV show. Some children dawdle about brushing before bed to delay the dreaded time when lights get switched off. Unless he's eating after dinner, there's no reason he can't get the same benefit from brushing an hour or two earlier.
Brush your teeth together, making it a family event. You can even hold an occasional contest, where you all chew the tablets (or use the rinse) that point out areas on teeth that weren't brushed well. The winner gets a special prize for being the most thorough.
Buy your son an electric toothbrush. Many children enjoy using a "machine," especially if you also let him pick a toothpaste that he likes. Try adding music to his brushing ritual; most songs run 2-3 minutes, which is an ideal amount of time to spend on dental hygiene.
Find an older youngster who he looks up to and ask him or her to talk with your son about the value of dental hygiene. While he may scoff at your attempts to convince him to care about his teeth (or his breath!), he'll probably pay extra attention if an older kid tells him it's not cool to walk around with stinky breath or rotted teeth.
Create incentives. Some parents use sticker charts to help children track weekly progress to create motivation. Just make sure that you don't reward your son's improved brushing with candy!
Finally, create routines that you stick to. While it should be okay for your son to grumble about brushing, don't engage in power struggles. Allow him to vent about the fact that he thinks it's "dumb" and acknowledge that he doesn't enjoy it, but avoid lecturing. Instead, create clear, non-negotiable expectations while doing what you can to make the experience a bit more enjoyable. Someday, he will be proud of his pearly whites, and he'll thank you for helping him develop the habits of good dental hygiene.
One of my favorite ways to instill good oral care habits is for children to watch and copy their parents. "Mimicking" is a behavior many children display, and when young children watch you happily brushing your teeth, they are often eager to copy and brush their teeth as well. You can also practice brushing each other's teeth. Be careful of using many commercial toothpastes, which contain a "poison warning" about swallowing because of potentially harmful ingredients, in front of young children as they often swallow the toothpaste. There are some new, natural toothpastes, like Revitin Oral Care (www.revitin.com) which are vitamin-rich in a natural base, and completely safe to swallow.
Letting kids pick out their own toothbrushes and toothpaste is one way to motivate them to brush. For toothbrushes, he can choose one adorned with anything from Barney to zebra stripes, but make sure he chooses one that has soft bristles and is small enough to fit comfortably in his mouth. Kids' toothpastes come in many appealing flavors and colors, too, such as bubble gum and fruit flavors. Really, anything is fine, as long as it contains fluoride if your child has mastered spitting out toothpaste while brushing -- usually after age 3.
From Good Kids, Bad Habits: The RealAge Guide to Raising Healthy Children by Jennifer Trachtenberg.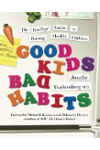 Continue Learning about Children's Oral Health

Teaching children good oral hygiene habits early can lead to a lifetime of good dental health. You can prevent children from getting cavities by taking care of their teeth as soon as they start to come in. Depending on their teeth...
, children may need help with flossing until they are a little bit older.
More