Children often experience anxiety following traumatic incidents. They may also suffer from depression and posttraumatic stress disorder. Typical reactions of children following disasters include sleep problems, being overly alert, excessive fears, constant thinking about or talking about the incident, a belief that it will happen again, developmental regressions, and being excessively attached to parents.
Following a disaster or trauma, the world may seem less secure and unpredictable for your child. This is a time when kids need to depend on their parents more than ever for support and stability. It's also imperative that parents pay close attention to changes in their children's behavior that may indicate a need for professional help.
From Good Kids, Bad Habits: The RealAge Guide to Raising Healthy Children by Jennifer Trachtenberg.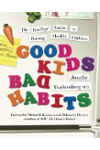 Continue Learning about Children's Emotional Health