In my view, good self-esteem means a balanced, realistic sense of self. A child with a healthy self-esteem does not think he or she is invincible. This, in fact, would be quite dangerous, especially if we're talking about a 16-year-old with a brand new driver's license. A bit of self doubt is important. It helps children realize that there are boundaries that keep them from getting physically and, possibly, emotionally injured.
At the same time, of course, you don't want your children to be afraid of what life has to offer. You want them to challenge themselves, work hard, and be the best people they can be. This is where a healthy sense of self comes into play. Children with good self-esteem set goals for themselves, work toward them, and, even if they don't succeed the first time, are determined to try again. A child with good self-esteem is not self-centered. In fact, children with the best sense of self picture themselves as a part of a larger community, have strong connections with friends and family, and realize that they are an important part of that community.
From Good Kids, Bad Habits: The RealAge Guide to Raising Healthy Children by Jennifer Trachtenberg.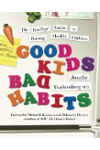 Continue Learning about Children's Emotional Health