There is enough evidence linking the consumption of nitrates to a significantly increased risk of the major childhood cancers, including leukemia, lymphoma, and brain cancer, including the following:
Children who eat twelve hot dogs per month have nearly ten times the risk of developing leukemia as children who do not eat hot dogs.
Children who eat hot dogs once a week double their chances of developing brain tumor; eating them twice a week triples the risk.
Pregnant women who eat two servings per day of any cured meat face more than double the risk of bearing children who have brain cancer.
Children who eat the most ham, bacon, and sausage incur three times the risk of developing lymphoma.
Children who eat ground meat once a week face twice the risk of acute lymphocytic leukemia than those who eat none; eating two or more hamburgers weekly triples the risk. Fortunately, vegetarian alternatives to these standard components of the American diet are now widely available, and many of them actually taste quite good! Consumers can find soy hot dogs, soy sausage, soy bacon, and even soy pastrami at their local health food store as well as in many mainstream grocery stores.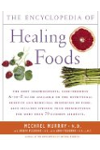 More About this Book
Encyclopedia of Healing Foods
From the bestselling authors of The Encyclopedia of Natural Medicine, the most comprehensive and practical guide available to the nutritional benefits and medicinal properties of virtually everything...
Continue Learning about Children & Teens With Cancer