It is well known that eating disorders are widespread among teenagers and young women. But disordered eating and preoccupation with weight affect women at midlife and later, too. The menopause transition, like adolescence, is a vulnerable time for women, as we deal with physical changes and struggle to redefine ourselves in a world that values youth. Eating disorders (anorexia, bulimia, and binging) represent the dangerous extremes of unhealthy eating. Whether because earlier treatments did not work, treatment was never sought, or it is a new pattern, eating disorders around the time of menopause are a serious problem. It is well worth seeking help because much more is known these days about how to treat eating disorders. Treatment may include counseling, medication, and the involvement of one's partner, spouse, or other friends, family members, or support groups.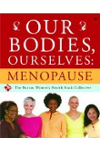 More About this Book
Our Bodies, Ourselves: Menopause
FROM THE EDITORS OF THE CLASSIC "BIBLE OF WOMEN'S HEALTH," A TRUSTWORTHY, UP-TO-DATE GUIDE TO HELP EVERY WOMAN NAVIGATE THE MENOPAUSE TRANSITION For decades, millions of women have relied on Our...
Continue Learning about Eating Disorders