As stress levels increase in our life, unhealthy habits follow. Once you have developed a routine of de-stressing by the use of food, then your brain learns to want food to feel a release.
This is a vicious cycle. However, a habit can be broken! If you can learn to find a healthy way to deal with the stress in your life, and not turn to food for the instant relief, then your moving in the right direction. I would recommend getting educated about your body, and how food and nutrition is designed for fuel and nourishment. Then, by adding in healthy manners of stress release like exercise, yoga, going for a walk with a friend, and even taking a cat nap, you will step even further out of that vicious cycle.
If you feel that your child, parent, or grandparent is dealing with an eating disorder or stuck in a cycle of unhealthy habits, then there is professional help for them. I can be a role model for anyone struggling with eating issues. I love to teach others the proper balance of exercise, nutrition, and self confidence. Watch my personal testimony video linked here and on my sharecare page.


Send me any concerns or questions regarding these topics by email lindzkfitness@yahoo.com Let me help you find your happy, healthy and fit self again! Of all the actions you pursue, one of the few things you totally control is eating. You have the freedom to chow down what you want, where you want, how you want, and whether or not you want to do it with or without clothes on. Because of that freedom, eating makes you feel good.
Funny thing, though. Food is like the paint you use to cover over cracks formed in the foundation of your house. Two coats of robin's-egg blue may hide the flaws temporarily, but it's never going to fix the real root of the problem. If this is you, your cover-up is what starts that tornado-like cycle that keeps you from ever feeling satisfied physically or emotionally. Ask yourself: Could this be part of a cycle?
You long for something deeper.
And when you can't find it, you eat to feel better.
But you feel lousy because you gain weight.
Then you tell yourself you don't deserve to be thin because you can't keep weight off.
Then your self-esteem drops further because you haven't overcome obstacles or accomplished what you want.
You self-medicate with food.
And then you medicate yourself with food when you can't find something that gives you what I term soul-level satisfaction (or "The It"). And the cycle continues.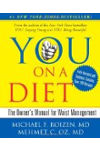 Continue Learning about Eating Disorders