Childhood obesity is a growing epidemic in the United States and around the world. Over half of children today are either overweight or obese. This pandemic will increase our nation's health care costs as children age and succumb earlier to chronic disease. Obese children are much more likely to develop heart disease, high blood pressure, stroke and diabetes. Obesity is no longer limited to certain regions or states. It knows no socioeconomic or ethnic boundaries. Childhood obesity is a national security issue. Obese children grow up to be obese adults are may not be in good enough shape to defend our nation. Childhood obesity treatment and prevention should be a national priority.
While two-thirds of American adults are overweight, and over half of African American women are, too, our children are not far behind. Childhood obesity has doubled in the past 20 years, with one in four, or a quarter, of American children considered obese. As with almost every epidemic and disease, the numbers are worse for black youth: Nearly 22% of African American children are obese.

Not only are more children overweight, but those who are weighed in at 20 to 30% heavier than their overweight cousins from 10 years ago. These disturbing trends are reflected in a national survey that followed 8,270 U.S. children between the ages of 4 and 12 from 1986 to 1998. At the beginning of the study about 20% of black and white children alike had body mass indexes (BMIs) greater than what had been the 85th percentile for children in their age and gender group in the 1960s -- which is the cutoff now used to identify children who are overweight or at risk of being overweight. But by the end of the study, the percentage of black children with BMIs at or above the 85th percentile had increased to 38%, while the percentage of white children at that level or higher had increased only to 26%.

The fact that the number of children who are overweight or at risk of being overweight keeps increasing, especially among African Americans (and also Hispanics), is very alarming. According to government estimates, some 6 million children are fat enough that their health is at stake; another 5 million are waiting to slide down the slippery slope. That's one child in three who is either overweight or in danger of becoming so.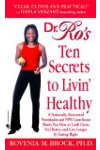 More About this Book
Dr. Ro's Ten Secrets to Livin' Healthy
In this one-of-a-kind book, Dr. Rovenia M. Brock—known as Dr. Ro™ to fans of Black Entertainment Television's Heart & Soul—reveals practical, satisfying ways for African American women to eat...
In recent decades, overweight and obesity among both children and adults have increased dramatically and recent data shows that almost 20 percent of U.S. school-aged children are obese. The reason for the increase in childhood obesity is likely a combination of several factors, including too many calories and too little physical activity.
Both the diet and activity levels of most American children need to be adjusted to stop this epidemic.
We hear childhood obesity epidemic so often I worry we are beginning to tune it out or not understand the relevance. I have been a pediatric registered dietitian for 30 years and for the first 10 years of my practice I never saw a child with Type II diabetes. In fact it was still called adult onset diabetes. Now I regularly see children, some as young as 6 years of age with either pre diabetes or full blown diabetes. Considering all the health problems related to diabetes- kidney, heart, eye and circulation problems this is a problem that will negatively impact these children's lives and have the potential to negatively impact future health care.
The statistics are shocking. Childhood obesity has nearly tripled in prevalence in the last 30 years. The extensive list of complications facing children who suffer from obesity includes diabetes, abnormal cholesterol, high blood pressure, asthma and sleep disorders. Even more frightening is the fact that these conditions are likely to follow children into their adult lives. The fat cells that children deposit at young ages stay with them as they grow. This means that extraneous fat cells will be impossible to remove and will burden these children for the rest of their lives.
This content originally appeared on
doctoroz.com
Continue Learning about Childhood Obesity