Even though data have shown that childhood obesity rates are declining, there is still a lot of work to be done. Nearly one in six children and teens in the U.S. are obese, including one in eight preschoolers. And more than one-third of children and teens in this country are considered either overweight or obese. Nevertheless, this is not as bad as the 69% of adults who are overweight or obese, but still not a good start.
Up to one in every five children in the U.S. is overweight or obese, and the numbers are rising. Children have fewer weight-related health and medical problems than adults, but overweight children are at high risk of becoming overweight adolescents and adults. Children spend hours watching television and playing video games, and that sedentary lifestyle plays a vital role in the prevalence of obesity.
Childhood obesity has grown by leaps and bounds. In the U.S., about 17 percent of children, from toddlers to late teens, are obese – a stunning 300 percent increase in just two decades, according to the Centers for Disease Control and Prevention. That dramatic spike in childhood obesity has sparked concern in the medical community. That's because obesity puts a child at greater risk for developing sleep apnea, high blood pressure, cardiovascular disease and Type 2 diabetes.
Continue Learning about Childhood Obesity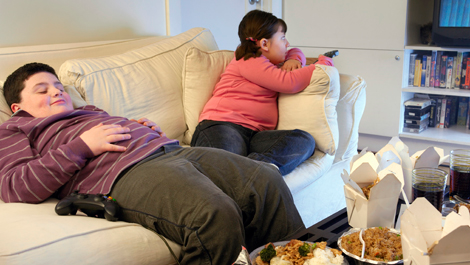 There are many reasons that we are seeing more overweight children than we used to. Portion sizes when eating out are larger, kids often get less exercise. More time is spent in front of the TV and computer. One out of five kids i...
s now overweight, and they are at risk for being overweight adults.
More