The chances of an obese child becoming an obese adult are very high. Some studies have shown that children who are above the 95th percentile for their weight may be two to three times more likely to become obese as adults.
Fat kids will more than likely become fat adults. Studies show that 70% to 80% of kids who are overweight at age 10 to 13 will be overweight or obese as adults. Children who are obese at age 6 have a 50% chance of being obese adults. The reason for this is probably the same reason that overweight or obese adults tend to stay that way: It's very hard to change habits and lose weight.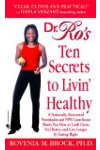 More About this Book
Dr. Ro's Ten Secrets to Livin' Healthy
In this one-of-a-kind book, Dr. Rovenia M. Brock—known as Dr. Ro™ to fans of Black Entertainment Television's Heart & Soul—reveals practical, satisfying ways for African American women to eat...
Continue Learning about Childhood Obesity