About 4 percent of babies are in a feet- first ("footling breech"), buttocks- first ("frank breech"), or legs-crossed ("complete breech") position at the end of gestation. If your baby is in a breech position, your provider may be able to use a process called external cephalic version to manually turn your baby to a head- down position about three or four weeks before you due date. In some circumstances, a cesarean section may be the safest way for your baby to be born. In other circumstances, you may be able to give birth vaginally. Physicians with little or no experience with vaginal breech birth are understandably more likely to recommend a cesarean, as such births do require important skills. You may want to ask around to find a physician with such experience, if avoiding a cesarean birth is important to you.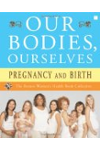 More About this Book
Our Bodies, Ourselves: Pregnancy and Birth
ALL THE INFORMATION YOU NEED TO MAKE WISE DECISIONS ABOUT YOUR PREGNANCY AND THE BIRTH OF YOUR CHILD -- FROM THE EDITORS OF THE CLASSIC "BIBLE OF WOMEN'S HEALTH" Pregnancy and birth are as ordinary...
Continue Learning about Cesarean Delivery (C-Section) & Pregnancy