Side effects of advanced cervical cancer treatment, which includes surgery, radiation, and chemotherapy, can be as follows:
Surgeries usually cause infertility.
Radiation will often cause fatigue, diarrhea, nausea, irritation of the bladder or low blood counts immediately after treatment. Long-term side effects of radiation include scarring and tightening of the vagina, vaginal dryness, leg swelling and weakened bones.
There are many kinds of chemotherapy with various side effects. Common side effects include nausea, vomiting, mouth sores, hair loss, fatigue, nerve pains and changes in menstruation.
One option for those who must undergo treatment for cervical cancer is surgery—either a cone biopsy or a hysterectomy (the removal of the uterus or womb and, sometimes, the fallopian tubes and ovaries). For those who go through with a hysterectomy, you're not necessarily out of the woods. Complications such as bleeding or infection can occur. And obviously, your fertility will be affected. If the ovaries are not removed, menopause may occur sooner in life. If they are removed, you'll enter menopause immediately, and experience menopausal symptoms like hot flashes and vaginal dryness.

Radiation therapy can also be employed, though it will destroy the ovaries and induce immediate menopause. And if you end up taking hormone replacement therapy to counteract the fact that estrogen production has halted, side effects can include breast tenderness, bloating and depression.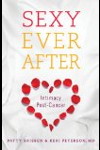 More About this Book
Sexy Ever After: Intimacy Post-Cancer
Recent studies show that 40-100 percent of men and women who have been treated for cancer have experienced some level of sexual dysfunction. Sexy Ever After: Intimacy Post-Cancer will help you reinvigorate your sex life after a cancer diagnosis and/or treatment by helping you redefine sex. Finally, the millions of men and women have been searching for answers and information about their post-cancer love lives (as well as their partners) have a resource. "Sexy Ever After: Intimacy Post-Cancer" will help you reinvigorate your sex life after a cancer diagnosis and/or treatment by helping you redefine sex. ABOUT THE AUTHORS:Patty Brisben is the CEO and founder of Pure Romance™, the nation's fastest-growing in-home direct sales company specializing in relationship enhancement products, intimacy education, and sexual health awareness. With over twenty-five years of experience working with women, she now leads tens of thousands of consultants who are touching the lives of women and couples nationwide. Through Pure Romance's Sexual Health Education Department, Patty assists women in recapturing their sensual and sexual selves following cancer diagnosis and treatment. In 2006 Patty created the Patty Brisben Foundation for Women's Sexual Health, which serves to strengthen, support, and enhance health services provided for women through education, research, and community outreach. Her notable work has put her in the national spotlight, with appearances on "The View" and CNN amongst others and profiles in leading business publications, including Forbes and Entrepreneur.Dr. Keri Peterson obtained her bachelor degree from Cornell University and received her medical degree from Mount Sinai School of Medicine. She completed post-graduate training in Internal Medicine at Mount Sinai Medical Center in New York City and is board certified in Internal Medicine. Dr. Peterson has been in private practice with a prominent medical group on the Upper East Side of Manhattan since 1999. She holds appointments at Lenox Hill Hospital and Mount Sinai Medical Center. She is a member of the American College of Physicians and the American Medical Association. With a demonstrated commitment to the advancement of medicine, Dr. Peterson has several publications in leading medical and scientific journals and has presented at distinguished medical symposiums. Dr. Peterson is a medical contributor and columnist for Women's Health Magazine and also appears frequently on the TODAY Show amongst others.
Continue Learning about Cervical Cancer Treatment