If you do develop symptoms of carpal tunnel syndrome, you can try some home treatments:
When you go to bed at night, make a "nest" for yourself with pillows that tip you slightly to one side and support your arms at your sides but slightly elevated.
If you find that you curl your hands up during the night, try using supportive wrist splints, which you can buy in most drugstores; they will hold your wrists in a neutral position while you sleep.
Several times a day, exercise your wrists and hands by touching each of the fingers on the affected hand, one after another, to the thumb of that hand.
If carpal tunnel syndrome becomes severe, it may help to see a physical or occupational therapist and be fitted for custom wrist braces or have other medical treatment. Talk with your health care provider if you are having difficulty sleeping or doing your daily activities due to carpal tunnel symptoms.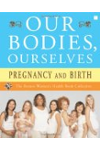 More About this Book
Our Bodies, Ourselves: Pregnancy and Birth
ALL THE INFORMATION YOU NEED TO MAKE WISE DECISIONS ABOUT YOUR PREGNANCY AND THE BIRTH OF YOUR CHILD -- FROM THE EDITORS OF THE CLASSIC "BIBLE OF WOMEN'S HEALTH" Pregnancy and birth are as ordinary...
Continue Learning about Carpal Tunnel Syndrome Treatment