Perform the following steps to provide the energetic remedy for carpal tunnel or injuries caused by repetitive motions of the hand or arm:
1. Affected joint or area: Sweep alternately with light whitish-green and light whitish-blue for at least 5 minutes. Energize with whitish-green, then light whitish-blue, then light whitish-violet. Stabilize.
2. Repeat step 1 on the armpit, jaw, and back of the head.
3. Front solar plexus chakra: Sweep with light whitish-green, then energize with white prana. Stabilize.
4. Repeat step 2 on the back solar plexus, navel, and basic chakras.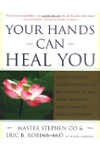 Continue Learning about Carpal Tunnel Syndrome Treatment