You're flooded with hormones that help the uterus grow, but your body doesn't have some off-on switch that allows you to pick and choose which parts of your body respond to them. So as your uterus grows, so do a lot of other tissues. In most parts of your body, that's not a huge problem. But think about your wrists and forearms. In such a narrow area, the tissues swell and compress the nerves. That's when you feel the shooting, paralyzing pains. Surgery isn't necessary in most pregnancy-related carpal tunnel cases, and splinting your forearms usually helps control the pain. After pregnancy, the condition promptly goes away within a few weeks in at least two-thirds of women.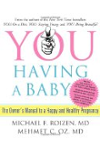 More About this Book
YOU: Having a Baby: The Owner's Manual to a Happy and Healthy Pregnancy
Can I get a cavity filled while pregnant? Will avoiding spicy foods make my kid a picky eater? Can I really increase my baby's IQ while she's in utero? Whether you're pregnant for the first time, are trying to start your family, or already have enough children to start your own basketball team, you're bound to have questions about what it means to be pregnant -- and how you can increase your odds of having a healthy and happy pregnancy. But no matter how much you've read, watched, studied, or talked about this amazing biological journey, you have never read anything like this. In this groundbreaking book, Dr. Michael Roizen and Dr. Mehmet Oz act as mythbusters for the hundreds of questions surrounding pregnancy in the same scientific, informative, and entertaining ways that have made them America's Doctors. In these pages, you'll learn everything you need to know about the miracles of fetal development, your health throughout the pregnancy, and providing the best possible environment for your growing child. Pregnancy is a complicated balancing act, but it doesn't have to be frightening. The doctors will help you de-stress as they describe accurately and rationally what happens during a thrilling nine months of life. While every pregnant body is different, odds are you'll experience some of the cravings, crying, and discomfort that almost all women go through. Your best tactic? Learn why these things are happening -- and what you should do about them. YOU: Having a Baby will teach you everything you need to know about what to eat (should I be eating for two?), how much to exercise, and what guilty pleasures will actually make pregnancy easier on you (and the loved ones who get to be around you for the whole thing). Each phase of pregnancy has different challenges, but the right information will prepare you for what's ahead. The interactive week-by-week calendar inside provides an even more detailed guideline for how and what you should feel through every step of the process. Exciting, cutting-edge scientific research in the fi eld of epigenetics has changed the way the medical profession looks at pregnancy, and now it can change your perspective, too. Epigenetics explores what makes us develop in certain ways -- why some people thrive at math while others are prone to chronic diseases. It turns out that there are easy things you can do that will not just help your baby's development in utero but will actually improve his or her chances of living a healthy, fulfi lling adult life. Filled with recipes for nutritious, satisfying snacks and meals even Pop can cook (yes, he can!), safe exercises for staying fit, and tons of YOU tips that will help you stay comfortable, YOU: Having a Baby is the ultimate guidebook for what to do from the moment of conception to the weeks after your child has arrived home. From morning sickness and food cravings to choosing a doctor and changing a diaper, YOU: Having a Baby will give you the real scoop about what's in store for you during this amazing time in your life.
Women develop carpal tunnel syndrome at least three times more commonly than men. The reason for this is unknown but currently a topic of research. It has been proposed that the "swelling" we have during pregnancy—particularly in the third trimester—causes pressure on the nerve. However, many women develop this early in pregnancy (or even when they are using hormonal contraception). Women also develop it around and after menopause. It is suspected that there are genetic and hormonal reasons for this that go beyond "swelling."
Carpal tunnel syndrome symptoms can be treated during pregnancy. Splinting and (in some cases) corticosteroid injections into the carpal canal can provide relief. If you are pregnant and have symptoms, discuss the options with your OB or ask for a consultation with a hand specialist.
Carpal tunnel syndrome is frequently associated with pregnancy, with as high as 60 percent of pregnant women developing carpal tunnel syndrome. This most commonly occurs in the third trimester of the pregnancy. The most likely cause is edema or swelling within the carpal tunnel, causing secondary compression of the median nerve. The edema that develops within the carpal tunnel is likely related to hormonal changes associated with pregnancy, but can also be exacerbated by gestational diabetes and fluid shifts associated with the later stages of pregnancy. Women who develop diabetes during pregnancy are at higher risk for developing carpal tunnel syndrome during pregnancy. Most women with pregnancy related carpal tunnel syndrome will have resolution of symptoms after delivery.
Continue Learning about Carpal Tunnel Syndrome Causes & Risks