Everyone is aware to a greater or lesser degree of the possibility of Alzheimer's disease. We joke about it when we have forgotten a name or an event or where we parked out car, saying "it must be my Alzheimer's kicking in." (By the way, Pfeiffer's law says that people only joke about those things that they are most serious about.) But Alzheimer's is no joking matter. If someone close to us repeatedly fails to remember important information and that fact constitutes a change from their previous behavior, we have every reason to be suspicious that something serious is going on. If you observe one or two or even three of the warning signs of Alzheimer's disease, your concerns may be heightened. Remain watchful for other signs of a faulty memory, of a lack of attention or of an inability to complete a task the loved one has begun. You will want to believe that it's not Alzheimer's. But that would be denial. And denial has its useful aspect: it protects us from pain or anxiety. Its downside is that it leads us to ignore a problem. Now you might think that if you are beginning to see signs of memory loss, that your loved may also be aware of these same things, but denial may play a role in their perception as well. Instead of being realistically concerned about the potential problem, the person may become irritable or depressed, or hypersensitive if their memory capacity is questioned in any way. Then you have to learn one of the cardinal lessons of caregiving: You have to be so gentle!

Eventually, however, you may wish to sit down with your loved one when both of you are relaxed and unhurried, and ask them if they have been aware of what you have noticed, and if they are concerned. If the answer is yes, you are well on your way to coming to grips with the problem, and the next step would be to schedule an initial medical evaluation with your loved one's primary care doctor. If the answer is no, it will be more difficult for you to deal with this emerging problem. He or she may become defensive, irritated or even accusatory. Then it would be best to try to recruit allies, one or more other persons who have both you and your loved one's interest at heart, and to bring the matter up again. If none of this works, you should discuss your concerns with your loved one's doctor at the next appointment. This process of coming to grips with the problem can take weeks or even months or years. Hopefully your persistent concern will be appreciated and acted upon.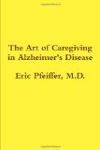 More About this Book
The Art of Caregiving in Alzheimer's Disease
This is an A to Z Guide to the caregiving experience in Alzheimer's disease. It is easy to read, easy to follow. It is authorative, based on thirty years of experieReconce in caring for Alzheimer's...
If you have concerns or notice unusual behaviors in a person and suspect he or she has Alzheimer's disease, consult a doctor. The sooner Alzheimer's is diagnosed, the sooner you and your loved ones can begin planning for care, treatment and support. Especially with early-onset Alzheimer's, it can be vital to take care of family members, finances and long-term planning.
If a person suspects that a loved one has Alzheimer's disease, she should speak to a physician. The earliest symptom of Alzheimer's is early memory deficit, and a physician would be able to help determine if a loved one is developing Alzheimer's versus other neurological diseases or conditions like depression.
Continue Learning about Caring For Someone Who Has Alzheimer's Disease