One of the most poignant events that can occur in the middle stages of Alzheimer's disease is the moment that the patient fails to recognize the caregiver. He or she may be perceived as a total stranger, or as another member of the patient's family, a son or a daughter or parent or some other person close to the patient. Many caregivers are devastated when this happens. After all that they are doing and have done for the patient, the patient no longer recognizes the caregiver! Well, be prepared; it may happen to you at some time during the caregiving process, or it may not, but if it happens to another caregiver, perhaps you can comfort them and explain to them that the patient is simply mistaking the caregiver for someone else dear to them. Or that he remembers her as that beautiful young woman she was when they first met, and she probably doesn't look exactly like that anymore. The patient has gone back to some meaningful image in their past. You may need to be prepared for this. Have in mind reminding your patient of some particularly meaningful moment in your relationship that only you could know. Retell the event to the patient and tell them that you are the one that he or she surely remembers from that meaningful event. The patient may have an "ah ha!" moment and recognize you again, or you may need to let time pass and wait for another time when he or she will recognize you for who you are. Do not be dismayed, this is not your failure; it is the disease speaking, not your loved one. That's why I wanted to alert you to this possibility so that you should not feel so hurt.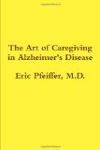 More About this Book
The Art of Caregiving in Alzheimer's Disease
This is an A to Z Guide to the caregiving experience in Alzheimer's disease. It is easy to read, easy to follow. It is authorative, based on thirty years of experieReconce in caring for Alzheimer's...
Continue Learning about Caring For Someone Who Has Alzheimer's Disease

From family members to physicians to outpatient staff, managing Alzheimer's disease is a team effort. Alzheimer's patients require specific care, and many options are available to help family members and caregivers. Consider optio...
ns like respite care when you need a break, and utilize the support system you have in place.
More