Cruises for a few days, up to two weeks, are almost ideal ways of giving both you and your loved one a break. This should be done in the early or middle stages of the disease, so that your loved can still maneuver about, enjoy the sights and sounds, the entertainment and all the other activities, and oh, the meals, under your supervision. Careful planning needs to go into this to assure that the cruise will not be too demanding on either one of you, but the self-contained environment of a cruise can be very enjoyable for both patient and caregiver. Or you might want to take another caregiver, a relative or friend, along to share caregiving duties. And then tell your caregiver support group about the experience! I bet you will get a round of applause, and a little bit of envy.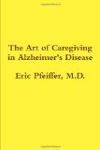 More About this Book
The Art of Caregiving in Alzheimer's Disease
This is an A to Z Guide to the caregiving experience in Alzheimer's disease. It is easy to read, easy to follow. It is authorative, based on thirty years of experieReconce in caring for Alzheimer's...
Continue Learning about Caring For Someone Who Has Alzheimer's Disease