Behavioral problems are generally quite mild at the early stage of the disease. They tend to stem from the fact that your loved one is quite aware that they are not functioning as well as they once did, and these may be their reactions. There may be some mild depression or irritability, or a lack of interest in initiating or completing activities. A generally loving and supportive attitude towards the patient will alleviate many of these relatively minor problems. If more serious mood or behavior problems crop up, discuss them with the doctor or bring them up for discussion in your support group.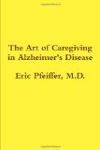 More About this Book
The Art of Caregiving in Alzheimer's Disease
This is an A to Z Guide to the caregiving experience in Alzheimer's disease. It is easy to read, easy to follow. It is authorative, based on thirty years of experieReconce in caring for Alzheimer's...
Communication plays a big role in behavior management of people with Alzheimer's disease. Keep these tips in mind:
Assess the situation. Once you have observed the person's behavior, try to find out what might have caused it. Ask yourself questions such as, "Why is my loved one upset?" or, "What happened in the last few minutes that could have prompted this behavior?" Also, do a basic evaluation to cover all your bases: consider that the person could be cold, hungry, in pain, bored, threatened, sleepy, frightened, etc. Once you assess the root cause of this behavior, you can communicate accordingly.
Offer comfort. Caregivers can provide comfort or reassurance through validation -- a technique that allows the person to stay in the moment without being proven wrong or brought back to reality. For instance, if an older man becomes upset because he cannot find his mother, an effective response might be: "I know you miss your mother very much, and she loves you too. You were always your mother's pride and joy." This will help the individual feel understood and safe.
Distraction is a powerful tool that diverts a person's attention and can help minimize disruptive behaviors. Since individuals with dementia have a very small window of short-term memory, changing the subject will help the individual focus on something positive while leaving sadness or anger behind. Any distraction topic could work, as long as it is pleasant for the individual with the illness. This could range from the weather outside, to the painting on the wall, to the wedding story that the individual loves to tell over and over again. During a state of agitation, a caregiver might say, "I can tell you are upset, but always know that your family loves you dearly. In fact, we really miss those family dinners we had every Sunday. Why don't you tell me all about that time you surprised us with a pot roast?"
Continue Learning about Caring For Someone Who Has Alzheimer's Disease