Your child spends time with grandparents, daycare providers, teachers, soccer coaches, gymnastics instructors, neighbors, and friends. You put your trust in them that they will keep your child safe and well cared-for in your absence.
But do they have all the information and skills they need? Ask yourself:
Are your child's daycare workers certified and trained?
Are your child's teachers, instructors, and coaches responsible, reliable, and nurturing individuals? How do you find out?
What happens in case of an emergency? What would they do? Who would they call?
Do they know about your child's allergies or health needs?
Do they know your child's schedule, where he goes after that, and who should pick him up?
When you think about it, if you are a working family, your child may spend more waking hours with other adults than he does with you. Shouldn't they know what you know about him? Making sure that your child is receiving the best possible care from all of these important individuals requires one key ingredient -- communication. You should become very familiar with communicating your children's needs with every adult (or qualified, mature, teenager) who becomes responsible for your children for any length of time. Whether it's the hour your babysitter watches your kids while you're at an appointment or the seven hours your child spends away from home at school five days out of the week, every minute counts, particularly when it comes to the health and safety of your child.
From Good Kids, Bad Habits: The RealAge Guide to Raising Healthy Children by Jennifer Trachtenberg.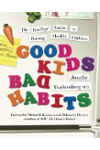 Continue Learning about Caregiving