Chronic illnesses are traumatic to entire families. A chronic disease can be very destructive or bring families together. Focusing on the positives, opening up to loving one another, sharing in kindness and support, affects families positively. In fact, it is best not to wait to have a sick person in the family to share compassion, love and care.
There are several ways that chronic illness can influence family life:
Daily routines may change because the limitations of the ill member and the demands of treatment may require that others be more available.
Families may need to share care giving responsibilities; this helps all members feel they are contributing to a loved one's welfare and it also protects any single member from caregiver fatigue.
Family members may experience strong emotions, such as guilt, anger, sadness, fear, anxiety and depressed mood. These are normal reactions to stress. It is useful to talk about these emotions within the family.
The ill member may need to find ways to be as independent as possible, given the limitations that the illness causes.
Despite the demands of the illness, families may need to work hard to maintain a sense of "normal" life. This can benefit the ill member, as well; it may help him or her integrate into family life more and may reduce the ill member's sense of guilt regarding the demands the illness places on the family as a whole.
When your child has a chronic illness, strange things happen. You do not love the sick child more than the others, but he commands more of your attention. Having an asthmatic or allergic child changes the dynamics of your family, just as having a dislocated or broken finger will change the way you use the whole hand.

Chronic illnesses like asthma, diabetes, and alcoholism affect the whole family. As family members try to compensate for the illness of one kid, they become codependent with the "identified ill child." It seems as if the family members need the "identified ill person" not to get better to keep balance in the family. As the parents rally to the support of the ill child, other children can lose out. It might almost be better if everyone were ill.

Ideally, other members of the family should rise to the challenge and selflessly support the afflicted. But we would also like to see the ill child become as normal a part of customary family life as is possible. Their special medical needs should not set them apart. Instead, they should be integrated into the lives of the others before the illness upsets the delicate balance that any family constitutes in these challenging times. No one should become the "forgotten" child or even, as often happens, the "forgotten" spouse.

But first things first. While we don't want to see any family's happiness compromised by allergies, each family must first develop the knowledge and discipline necessary to keep the condition itself under control. This is a battle, and every battle requires a commander in the field.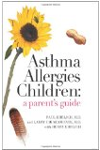 More About this Book
Asthma Allergies Children: A Parent's Guide
Asthma and allergies are at epidemic proportions. It doesn't have to be that way. Two experienced pediatric allergists tell everything a conscientious parent needs to know about these conditions,...
Continue Learning about Caregiving

Caregiving - taking care of a family member who is elderly, has an illness or disability - is becoming common in our aging society. Caregiving may be rewarding, but it's also stressful. Women are typically the family's caregiver - ...
yet they have their own long-term needs, because they live longer.
More