To avoid caregiver burnout, consider these helpful tips:
Build your team. Call family members and close friends and let them know you are taking on a supportive role and will need backup. Ask for drivers to help with doctor's visits. Ask for extra hands to help strip beds, fold linens, prep meals and clean.
Keep your hobbies. You will need time throughout the week to unplug and unwind. Hobbies will provide that outlet. Keep your monthly book club meeting. Tend to your vegetable garden. Plan time for weekly gym classes.
Call in the reserves. If you feel extra stress around the holidays, branch out. Homecare services are available to assist you. Call in help for a few hours a week, especially when you may need extra time to cook the Thanksgiving turkey, string holiday lights or wrap presents.
Mind your thoughts. When you care for others all day long, it is easy to silence the inner you. Find someone who can offer a listening ear. If you need the support of a counselor, seek one out. If you would rather speak to a dear friend, make the call. If you process through writing, then start a journal.
The best way to avoid caregiver burnout is to find ways to cut corners, and be a "good enough" caregiver, rather than a perfect one. In this video, psychologist Ramani Durvasula, PhD, explains how setting manageable priorities is also a key strategy.
Given the demands and stresses of caregiving, it should not be surprising that some caregivers may become patients themselves, at times succumbing to depression, burnout (sometimes called compassion fatigue) or self-neglect.
To minimize the risk of this happening, caregivers need emotional support, recognition, encouragement, suggestions for coping techniques and information about their role as caregivers. Take a little time at each doctor visit for your loved one to talk about how you are faring in your caregiver role.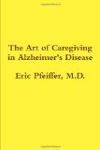 More About this Book
The Art of Caregiving in Alzheimer's Disease
This is an A to Z Guide to the caregiving experience in Alzheimer's disease. It is easy to read, easy to follow. It is authorative, based on thirty years of experieReconce in caring for Alzheimer's...
As a caregiver, you will need great emotional resilience as you meet the increasing caregiving demands of a loved one or friend under your care. It is important to take steps to avoid becoming burned out as the disorder progresses. Below are some tips to help you along the way.
Set boundaries. As a carer you have enough to do already. Don't feel like you have to say "yes" to the requests of others.
Set realistic limits. Accept that you cannot do it all. No one should expect you to. You should not expect it of yourself.
Delegate responsibility and create a care team. If you have others around you who are willing to help, take advantage of it.
Seek and accept help. If you have realistic limits you'll know when it is time to ask for help - ask before you find yourself in a crisis. If someone offers help, take advantage of it.
Celebrate success. Celebrate your own success, no matter how seemingly small. Celebrate the successes of your loved one.
Take breaks. Taking periodic breaks to do something that gives you enjoyment and peace, even if it's only a 10-minute break, can help recharge you for the rest of the day.
Utilize respite care and adult day care. Accept that getting away from the care-giving situation helps you and your loved one. If you feel guilty about leaving your loved one talk your feelings over with someone.
Identify what external resources are available, including carers' training courses and physical aids.
Continue Learning about Caregiving