I am a big believer of switching your workouts up all the time. A great way to strengthen your muscles is to do high reps with light weights. Get on a machine or use light dumbbells and pick an exercise and do it 100x in a row (without stopping). That will get your heart pumping in no time. One of my favorites is STEP UPS. You place your left foot on a bench or a step depending on your height and you tap the other foot on the step and then float it back down to the ground and using your ankle you tap the ground and softly spring back up. The goal is to do 100x in a row. If this is too hard, start with increments of 20 and build up. You want to use your arms opposite of the knee up, just like you do when you walk. Keep your chest and chin up and look straight ahead eye level. This helps resist from hunching your shoulders.
The machines in gyms are great forms of cardio activity because they are quick, easy to figure out, and convenient. But, depending on your idea of fun, they can get boring with time. The bottom line with cardio is you have to do something which raises your heart rate to a level you are trying to achieve. The Center for Disease Control and Prevention recommends a minimum of two hours and thirty minutes of moderate activity per week. This can be walking at a fast pace, playing with your children, biking, playing basketball, or anything else which promotes physical activity. If the heart has to beat at a faster rate, you are doing cardio activity. A good way to judge your physical exertion is by wearing a heart rate monitor or by performing the talk test. The talk test is an informal method of monitoring heart rate. If you are able to just barely respond in a conversation, the intensity is considered safe and appropriate for cardio improvement. In many cases, performing things you enjoy will be the difference between a true lifestyle change and just going through another phase only to look forward to gaining the weight back in the future.
Continue Learning about Cardiovascular Training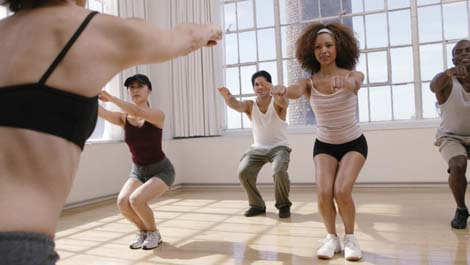 Cardiovascular training improved heart and lung health. Aerobic and anaerobic exercises are the types of exercises done for cardiovascular health. Aim for 30 minutes of cardio every day.