Aerobic conditioning can be intense if you are training for a marathon or triathlon. Measuring the intensity is based on your fitness. If your heart rate works at a higher rate than 85% of your maximum heart rate then it is intense aerobic training. Unfortunately aerobic training can be risky if your mechanics during the training is not right. Overtraining is usually present in endurance athletes. To increase your cardio aerobic conditioning one should do cross training to avoid injuries. Intense training should not be done every day by performing the same exercise. Follow a program and gradually increase your intensity. It is best to wear a heart rate monitor and always stretch before and after.
Vigorous intensity aerobic exercise can be described as exercise of a high enough intensity that prevents you from carrying on a conversation while performing. This is known as the sing talk test. If you can sing a song while performing aerobic exercise this is moderate intensity. Vigorous intensity exercise is strenuous enough you can only answer simple yes or no questions. Some examples would include running at a 8 minute mile pace, hiking a steep mountain slope, or taking a step aerobics class.
Continue Learning about Cardio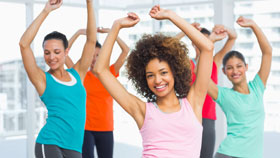 Cardiovascular exercise gets the heart rate up and in return you get stronger muscles, improved respiratory and circulatory system and even a drop in weight. Learn more about cardiovascular exercise from our experts.