The best aerobic workout is one that you enjoy but still challenges you. Choose from a variety of activities that are at least moderate in level. Some examples include, jogging, hiking, and swimming. For a non-traditional aerobic workout, try incorporating cardiorespiratory and resistance exercise by performing circuit training. Simply combine several resistance exercises and perform each one in a circuit fashion without rest in between each exercise.
Continue Learning about Cardio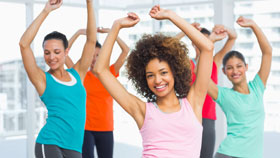 Cardiovascular exercise gets the heart rate up and in return you get stronger muscles, improved respiratory and circulatory system and even a drop in weight. Learn more about cardiovascular exercise from our experts.