Water aerobics has loads of benefit. Next time you are in the pool, try sprinting for 10 seconds and see how far you get. I bet you would get much further on land. However, the impact on your body does not seem to be present and you have received the same benefits? Interesting, notice that you are able to put in full force with something such as sprinting but not feel your knees or hips respond in any sort of tightness or pain, well isn't that great!
Benefits:
Little to no impact
Your resistance is the water
You are able to burn just as many calories and are able to have fun splashing around while doing it!
It's fun!!!
An aquatic exercise that has a lot of advantages for aging bodies is water aerobics. The resistance the water provides as you move through it helps strengthen your muscles. When most of your body is under water, you don't have to worry about how you look as you exercise. The buoyancy of the water also provides great benefits, especially for those with aching joints. When you are submerged to shoulder depth, the water supports almost 90 percent of your body weight. If you weigh 200 pounds, your bones, joints, and muscles are supporting only 20 pounds of your body's weight when you exercise in water. And water aerobics provides the same cardiovascular advantages that other aerobic exercises do.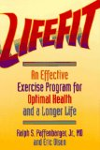 Continue Learning about Cardio