If you have a sedentary lifestyle any amount of cardio exercise is beneficial. Most recommendations suggest 30 minutes of moderate intensity exercise 5 or more days per week as the threshold for achieving the most benefit. Before you begin an exercise regimen, talk to your doctor.
Continue Learning about Cardio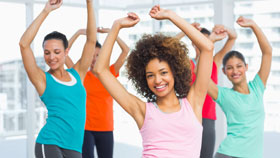 Cardiovascular exercise gets the heart rate up and in return you get stronger muscles, improved respiratory and circulatory system and even a drop in weight. Learn more about cardiovascular exercise from our experts.