As with all exercise, aerobic exercise does have benefits for the brain. First exercise will increase blood flow to the brain, providing the brain with essential nutrients such as glucose and oxygen.
Abnormal glucose tolerance can lead to brain impairments, and exercise helps regulate blood sugar levels. In children, exercise has been shown to improve cognitive function, and improve motor skill development. In adults, especially as we age, regular physical activity increases memory and slows the aging process of the brain. Studies show that very active people who engage regularly physical activities have much lower rates of memory loss, dementia, Alzheimer's and do better on cognitive function tests over time.
Aerobic exercise can increase the size of the aging brain's hippocampus, the part that houses memory and spatial navigation, researchers report.

Over the course of a year, researchers studied 120 older adults, ages 55 to 80, who didn't normally exercise regularly. Half of the group was assigned to an aerobic exercise program while the other half completed a stretching-and-weights program. Both groups received MRIs and performed spatial memory exercise.

The group that did aerobic exercise for a year saw increases in hippocampus volume, while the stretching-and-weights group saw a decrease in hippocampus volume.

The researchers stated: "Starting an exercise regimen later in life is not futile for either enhancing cognition or augmenting brain volume."
Continue Learning about Cardio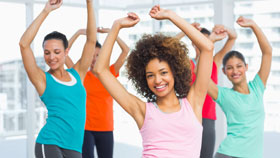 Cardiovascular exercise gets the heart rate up and in return you get stronger muscles, improved respiratory and circulatory system and even a drop in weight. Learn more about cardiovascular exercise from our experts.