Aerobic exercise can increase brain size. Scientists showed that adults ages 55-80 who engaged in a single year of aerobic exercise increased the size of their brains in the area of the hippocampus, the area of the brain that's crucial for memory and spatial navigation. The study was published in Proceedings of the National Academy of Sciences.
Continue Learning about Cardio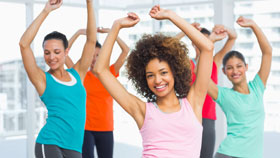 Cardiovascular exercise gets the heart rate up and in return you get stronger muscles, improved respiratory and circulatory system and even a drop in weight. Learn more about cardiovascular exercise from our experts.