"Cardio," or aerobic, exercise is repetitive, rhythmic exercise that increases your heart rate and requires you to use more oxygen. Common examples include walking, bicycling, jogging, swimming, vacuuming, scrubbing, and shoveling.
Cardio exercise is imperative to your heart health for many reasons. For example, cardio exercise:


Provides aerobic conditioning - this is when the heart muscle becomes stronger due to exercise, which makes it pump more efficiently. Therefore, your resting heart rate is reduced and the heart does not need to work as hard;
Strengthens the muscles used during breathing and throughout the body;
Burns extra calories, which helps reduce body fat and manage weight;
Improves circulation;
Increases red blood cells in the body, which helps transport oxygen to all tissues of the body that need it;
Improves mental health, reduces stress, and lowers the incidence of depression; and
Reduces the risk of heart attack, high cholesterol, high blood pressure, and diabetes.
Aerobic exercise requires added oxygen to be pushed through the body to your muscles and your heart is one of the biggest and hardest working muscles we have. By being active and walking, your body is getting the essential exercise that is needed. If you have been cleared by your physician to walk then be sure to follow that guidance. Your body thrives off of exercise and aerobic exercise will help add oxygen to your muscles to help keep you strong!
Aerobic exercise of any kind has the power to transform a bad mood, ease anxiety and tension, and calm rattled nerves. As soon as you start to exercise, more than 40 types of endorphins are released into the bloodstream. Levels of mood-enhancing neurotransmitters—such as serotonin, dopamine and norepinephrine—increase, and stress hormones begin to calm the brain and relieve stress. Over time, regular exercise helps the brain better cope with stress and stimulates the birth of new brain cells, which helps the brain adapt to changing life circumstances and counteract the corrosive effect of stress.

A 2005 study in the Journal of the American Medical Association reported that heart disease patients who received aerobic-exercise training for 35 minutes three times a week for 16 weeks, in addition to standard medical care, showed greater improvement in markers of cardiovascular risk than those who received only standard medical care. While vigorous exercise tends to be associated with stress relief, any type of activity—from strength training to tai chi and tennis—can be beneficial. In fact, studies show that a brisk 20-minute walk can deliver the same palliative effects as a mild tranquilizer.
Continue Learning about Cardio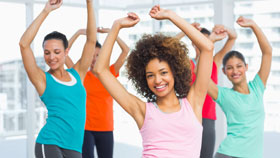 Cardiovascular exercise gets the heart rate up and in return you get stronger muscles, improved respiratory and circulatory system and even a drop in weight. Learn more about cardiovascular exercise from our experts.