Carbon monoxide (CO) is a gas without odor or color. It is found in combustion fumes, such as those produced by furnaces, automobiles, and gas appliances. If this gas begins to leak, CO can build up in confined spaces. Because the blood can pick up CO very quickly, inhaling too much of it can cause people and other living things to become ill and possibly die.
A deadly gas that you can't see or smell is carbon monoxide (CO), but could be floating around your home. Research reveals that carbon monoxide poisoning remains a far too common cause of illness and death, especially among kids.
Carbon monoxide poisons more than 2,110 children age 5 and younger each year. While everyone is at risk for this poison, infants and children are at the greatest risk because they use the most oxygen. The initial symptoms of carbon monoxide poisoning -- headache, nausea, dizziness, chest pain -- mimic other illnesses, so it's difficult to diagnose. Sleeping children can become ill before ever complaining of symptoms. Keep your family alerted of potential problems by installing inexpensive CO sensors on every level and in every bedroom of your home and testing them regularly.
Create a plan of action for your kids to follow if the alarm does goes off. Stress the importance of leaving the house immediately, and map out a meeting place outdoors where you can breathe fresh air. Do not call for help until you've left the building.
From Good Kids, Bad Habits: The RealAge Guide to Raising Healthy Children by Jennifer Trachtenberg.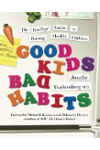 Continue Learning about Carbon Monoxide Poisoning