You can lower the glycemic index (GI) of some foods by cooking, cooling, and reheating. You can also:
Add some fat. Fat slows stomach emptying, delaying the process of converting food to blood sugar. This isn't a license to slather on the butter, however! Instead, use moderate portions of healthful fats. Adding peanut butter, nuts, avocados, or olive oil is a smart way to help tame the carbohydrates in a meal.
Toss it with lemon juice or vinegar. These acidic condiments have been shown to reduce the GI of a mixed meal. For example, the vinaigrette from the salad will help blunt the rise in blood sugar from the side of rice on your plate. Marinating a potato salad in a vinegar or lemon juice dressing will do the same (plus, if you cool the salad overnight, you drive down the glycemic index even further).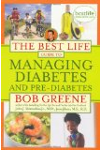 Continue Learning about Carbohydrates