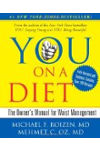 High-fructose corn syrup (HFCS), a sweetener that is found in many processed foods, can strongly affect your brain's satiety center -- in a bad way.

Here's how it works: When you eat calories from healthy sources, they turn off your desire to eat by inhibiting production of NPY (a chemical that decreases metabolism and increases appetite), or by producing more CART (a chemical that increases metabolism and reduces appetite). But high-fructose corn syrup, which sweetens our soft drinks and salad dressings, isn't seen by your brain as a regular food.

Because your brain doesn't see any of the thousands of HFCS-containing foods as excess calories or as NPY suppressants, your body wants you to keep eating (which means that even low-fat foods can have extremely bad consequences, calorie- and appetite-wise).