Regardless of whether you're trying to lose weight or not, you should eat between 45%-65% of your daily calories from carbohydrates. It's a common misconception that carbs are the enemy. Diets that restrict any major food group, like carbs, won't result in long-term weight loss success. In addition to being the body's preferred source of energy, foods that are rich in carbohydrates contain several essential nutrients that are important for nutritional health and disease prevention.

Wholesome carbohydrate foods like fruits, vegetables, wholegrains, and legumes supply fiber, vitamins, and minerals. Low-fat dairy foods, like milk and yogurt, are rich in carbohydrates and also are important sources of calcium, vitamin D, zinc, and protein.

Weight Watchers encourages a balanced diet based on a variety of nutrient-dense foods from all the basic food groups.

Weight Watchers offers a comprehensive approach to weight loss that can help you reach your goals.
People who have some knowledge of nutrition mistakenly assume that staples like fruits, rice, pasta, and potatoes raise your insulin and then make you fat. True, this may happen if you eat four cups of rice or eight cups of pasta. It doesn't happen if you eat a responsible portion. A normally functioning body is well able to process the right amount of carbs per meal. Carbs may also be a problem if you have prediabetes or insulin resistance and type 2 diabetes, but even then, if you know how much of a food you can eat, you can control those biological responses.

Eating the right amounts of good carbs and protein throughout the day helps the body to not overproduce insulin and keeps your energy going. In my practice, hundreds have lost weight even though they had conditions like polycystic ovarian syndrome (PCOS), prediabetes, metabolic syndrome, and type 2 diabetes, which all had insulin resistance. For example, Italians eat pasta as their first meal, and they enjoy a very small amount by our standards. Then they eat a healthy portion of protein and veggies as the main course. Here, we eat pasta as our main meal -- often a whole plateful -- heaped with cheese and meatballs. The same is true of rice in Asia. It is meant to accompany a nice piece of meat and some vegetables, not be served as a main dish.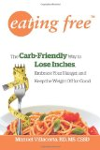 I recommend limiting carb servings to four servings a day. One serving of carbohydrates equals 80 calories or one slice of bread. It also equals 15 grams of carbohydrate or approximately 90 grams for the day's total. When talking about carbs I mean starchy breads, cereals, etc. also starchy vegetables like potatoes, rice, and sweets and alcohol. Fruits should be limited to three servings a day and are not part of the 90 grams from other carbs.
Continue Learning about Carbohydrates and Weight Loss