If we overconsume carbs, we get more energy than the body can use, and two things happen: the extra gets stored as fat, and we have more energy which then keeps us awake (if we are eating at night) or sets us up for another energy drop (what goes up must come down). This is what we call the carb hangover.

Another way to think of this cycle of carbohydrate overload is to consider each serving as a building block. When we have more than one block or have one without the balancing effect of others necessary blocks (ahem: healthy fats and proteins), then while our energy rises it also crashes. Some people may even get shaky due to hypoglycemia or other health conditions, or as a result of drinking caffeine at the same time. As you begin to worry about being able to function on low energy and fatigue sets in, the body will call out for sugar (that is, carbs) for energy. If you give in to this demand, which is primal, you'll awaken the body but create yet another vicious cycle -- especially if you choose a low-quality form of carbohydrate.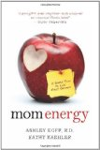 More About this Book
Mom Energy: A Simple Plan to Live Fully Charged
       From celebrated dietitian Ashley Koff and fitness trainer to the stars Kathy Kaehler comes Mom Energy, an exciting new way for moms to tap into their own natural and renewable sources of...
Continue Learning about Carbohydrates and Health