Traditionally, we've viewed cancer as the body's dragon; it has no redeeming value whatsoever. But more recently, we've learned that it can be a teacher, too. Any doctor who studies, researches, and treats cancer gets an up-close look at how the body is supposed to work and how it responds when it doesn't.

How do healthy cells become cancerous? By what mechanisms do different cancer cells evade our immune system's best efforts to destroy them? We've unraveled many mysteries, but there are many more yet to be solved-and studying cancer (and cancer survivors) is providing the clues.

Also, gaining a greater understanding of the various ways the body responds to cancer-and knowing that it's successful in destroying cancer cells much of the time-is leading us to new therapies. And herein lies one of the great goals-and hopes-of oncologists: to find the mechanisms that kill cancer cells, or prevent them from growing in the first place.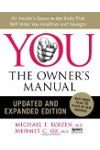 Continue Learning about Cancer