Their arrival may often feel random, but hot flashes after cancer treatment can actually be trigged by other things going on in your life. Stress is one such trigger. Others are alcohol, spicy food, hot tubs, and hot showers. So resist the urge to get buzzed before heading to the bedroom. And avoid those spicy dishes, even though you've been told they're aphrodisiacs. Hot tub and shower sex? Also out. Luckily, you can still have sex all over the place while still avoiding these high-temp triggers.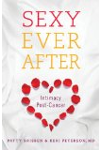 More About this Book
Sexy Ever After: Intimacy Post-Cancer
Recent studies show that 40-100 percent of men and women who have been treated for cancer have experienced some level of sexual dysfunction. Sexy Ever After: Intimacy Post-Cancer will help you...
Hot flashes for women with breast cancer occur when estrogen levels in the body decrease as a result of chemotherapy or taking tamoxifen (Nolvadex) or one of the aromatase inhibitors (such as anastrazole [Arimidex], exemestane [Aromasin], or letrozole [Femara]) to prevent breast cancer recurrence (return of the cancer). Hot flashes can be associated with other symptoms such as, night sweats; vaginal dryness, itching, irritation, or discharge; painful sexual intercourse; reduced libido and interest in sexual activity; difficulties with bladder control; depression; or insomnia. Triggers for hot flashes include stress, caffeine, alcohol, spicy foods, heat, tight clothing, and cigarette smoke.
Ways to reduce the frequency and intensity of hot flashes include avoiding the triggers, breathing exercises, regular exercise, or mind-body treatments, such as yoga, meditation, or acupuncture. There are medications that can give some relief as well. It is useful to tell a healthcare professional if hot flashes are an issue. There is help and a woman should not have to suffer excessive hot flashes.
The contents of this website are for informational purposes only and are not intended to be a substitute for professional medical advice, diagnosis, or treatment. Nor does the contents of this website constitute the establishment of a physician patient or therapeutic relationship. Always seek the advice of your physician or other qualified health provider with any questions you may have regarding a medical condition.
Continue Learning about Cancer Treatment