Cancer can affect your body, mind and spirit. It also has an impact on your caregiver(s). You should be the coach of your healthcare team and have input on who is involved in your care and the care of your caregiver.
You will most likely have many doctors with different specialties involved in your care, and they should work together to coordinate your care so you get the best available treatment plan to manage your cancer. Usually an oncologist that specializes in treating cancer will coordinate your care. You may need several oncologists depending on the type of cancer you have and how it is treated. There are oncologists with different specialties including: Surgery, radiation and medical oncology if you need chemotherapy. You may also see a radiologist for diagnostics, and other medical specialists as necessary such as specialists in pain management, gastroenterology and pulmonology. Oncology nurses, nurse care managers, radiation therapists, pharmacists and other highly trained professionals are a critical part of the team to deliver and monitor your treatment plan.
Because cancer and cancer treatment has an impact on your body, mind and spirit, there are other important members of your team. At our treatment center, a team of integrative medicine clinicians work with our oncologists to provide treatment options to help manage symptoms and improve quality of life during treatment. These team members include: A naturopathic oncology provider, a registered dietitian, a mind-body expert, physical, occupational, speech and massage therapists, acupuncturists, pastors and chiropractors.
Your medical team will likely include an attending physician who oversees your care. An attending physician is a fully trained doctor in a specialty of interest, such as cancer care. Typically, your doctor will be trained in some area of oncology and may fall on the medical side of treatment (mostly chemotherapy and other medicine-based treatments) or the surgical side of treatment (surgical removal of cancer). Radiation oncologists are doctors specialized in delivering radiation therapy to treat cancers, and often they work in conjunction with other medical or surgical oncologists.
If your care is performed at a major academic teaching hospital (or affiliate), you can expect to have several "student doctors." Your team of physicians at an academic hospital includes fellows (doctors who have completed at least one area of specialization and are in training for an additional sub-specialized area), and residents (doctors in training after completing medical school). Medical students are the true "student doctors" and often will be the ones who are able to spend the most time with you.
Other common settings where care is performed include community-based or private hospitals and physician's offices (private practices). In these settings, care is typically given by physicians who have completed training and are licensed to practice in their field of specialty (in this case, oncology).
Oncology nurses are licensed and trained to provide patient care, and dispense and sometimes administer medications. In our practice, the oncology nurse serves as the primary point person for patients and their families, and is a vital part of the medical team. In addition to being well-versed in the different types of cancer treatments, including risks and benefits of surgery, chemotherapy administration and side effects, and other valuable skills, the oncology nurse also is a skilled counselor and confidant.
Social workers are licensed and trained to provide emotional support and practical guidance for patients and their families both in and out of the hospital. In addition, they often help arrange discharge planning for patients in the inpatient setting. A social worker may work with you at any point during your care.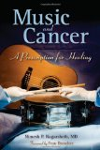 More About this Book
Music And Cancer: A Prescription For Healing
From diagnosis to end-of-life care to the meaning behind life with cancer, Music and Cancer: A Prescription for Healing is designed to improve the quality of life of people affected by cancer in a...
Your healthcare team is made up of professionals such as doctors, nurses, social workers, psychologists, pharmacists and others who care for your physical and mental health. Each member of your team is specially trained and can help you cope with certain aspects of your life during and after cancer treatment.
If you have cancer, you will have a team of healthcare professionals looking after you at the hospital. Your healthcare team will include doctors, who make decisions about what kind of chemotherapy you need, and nurses who will give you your chemotherapy. The healthcare team might also include nurse practitioners and physician assistants. The whole healthcare team is there to support you.
Continue Learning about Cancer Treatment